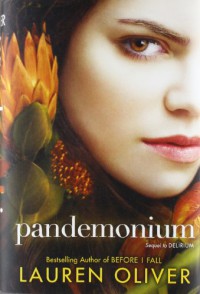 Sigh.
I'm almost to the point of giving up on trilogies. Almost.
Pandemonium wasn't bad, but it could have been so much more. There was the same slow pace as was in Delirium, but again I was OK with that. I liked that Lena grew as a character and became stronger. I like that she also tried to stick to who she really was and in the end decided that she didn't escape to turn into someone else. I liked that a lot actually. I was proud of her for staying true to herself.
The story is told in alternating chapters of 'Then' and 'Now'. I liked this for some reasons (it made the pace a bit quicker, and since it's already a slow paced book that was important), yet I didn't like it for others (some of those 'Then' moments felt drawn out and unnecessary). Again, Oliver's writing is beautiful, but there were moments I wanted her to just cut it down a bit and get to it.
I'm still not sold on the way Oliver has put together this dystopian world. For me, there were inconsistencies in the wilds over what they had or could do versus what they didn't have or couldn't do. And as in the first, I felt as though this society should have the capabilities for better security measures. It's as though technology - the fastest progressing field we have - has gone nowhere, and possibly regressed. That's starting to bother me. I mean, records of dangerous invalids are kept in books? Door alarms/locks are still just numeric keypads?
I was also hoping for more explanation in this book on why love was ruled as a disease. Who spearheaded this and why? If book 3 doesn't have anything on this, I might have to give it a one rating just for that alone.
Finally, the ending. This is what has caused my huge, disappointed sigh. I suppose given how the first book ended, I should have expected some sort of shocking cliffhanger. But Oliver did EXACTLY what I feared she would. It didn't need to go there. I'm actually kind of upset that she did go there. The book has another 'shocking' cliffhanger that could have served for the foundation of book 3. It didn't need to go in that predictable and overplayed plot angle.
Since the ending might not be obvious to all, the rest of my gripe is hidden as a spoiler.
(show spoiler)
Of course, I have to still listen to book 3. I can't leave it incomplete. I just really hope I'm not disappointed.